Patio Parties were back in 2021!
Thank you
for
Partying on the Patio with us this summer!
We had such a great time having you here!
Put us on your 2022 calendar
to return for more great Music, Food and Wine along the Vines!

2022 Band and Food Truck Schedule
coming Spring 2022!
Patio Party Weather Cancellation Policy
In the case of inclement weather, the Casa Larga management staff will make a determination on the occurrence of the Patio Party for that evening. 
In the case of rain, the Patio Party will take place indoors in our Bella Vista event space. In the event the Patio Party needs to be canceled, attendees that have already checked in with their tickets will be issued a Patio Party Rain Check to be used for entrance into a future Patio Party. 
I was at your June 7th Patio Party. I had a great time! Great wine! Good music! Good food! Hanging with friends on a beautiful night! It doesn't get any better than that. Thanks for bringing this fun activity to our area.

Carol Conant
COVID-19 Procedures
The following regulations and procedures were last updated on 6/19/21 and will be updated anytime there is a change so please check back often as the situation changes.
Seating will be first-come, first-serve.  We ask that you choose your table based on the size of your party (if you are a pair, please do not sit at a table of six).  We encourage you to bring your own chairs as well.
Per the most recent mask recommendations, vaccinated individuals are not required to wear a mask on our property.  It is still recommended that non-vaccinated individuals wear masks.  As we will be operating on the honor system, we ask that you please be considerate of other parties and practice 6 feet of social distancing at all times.  Casa Larga's employees will continue to follow strict cleaning protocols to assure that all of our guests feel comfortable.
Dancing is allowed and encouraged!  Please be respectful of others' space.
In the event of rain, patio parties will be moved into the Bella Vista event space. Due to current limits, we can only host 200 people inside our event space. Due to this, only 200 tickets will be sold in advance online. As the patio party nears, if the weather looks to remain nice tickets will be available past that limit.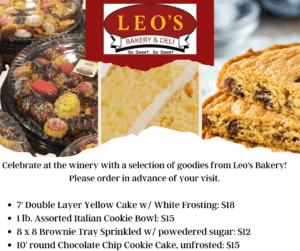 Celebrating something special?  Baked goods from Leo's Bakery and Deli are available for purchase through the wine shop!  Orders must be placed 24 hours in advance. 
Please note: Outside food and beverage is not allowed at the winery at any time.