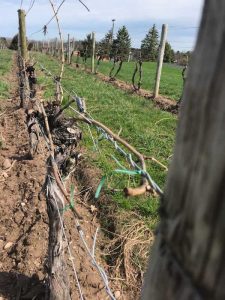 Casa Larga is seeking part time seasonal vineyard help. The opening currently is for assistance tying vines in the Vineyards. Time frame is 3-4 weeks, no evening shifts. The job duties are listed below.
Training is hands on
Schedule will be set according to Vineyard needs and weather patterns.
Tying is done rain or shine
Past landscaping, vineyard or gardening work a bonus
Enjoyment of working outdoors a bonus
Physical Requirements:
Must be able to lift 45 pounds
Standing and walking for extended periods of time on uneven outdoor dirt surfaces
Reaching by extending hand(s) or arm(s) in any direction
Finger dexterity required to manipulate objects with fingers and arms for example, twisting a string for tying
Communication skills using the spoken word
Ability to see within normal parameters
Ability to hear within normal range
Ability to move about
Exposure to seasonal weather conditions (summer heat, cold weather, rain).
Employement Requirements:
Applicant must complete a Casa Larga Job application. Paper applications are available to pick up at the wine shop, 2287 Turk Hill Road, Fairport. Must be eligible to work in the USA.
Offsite Winery Representative
Please note when applying for this job: Due to the nature of this position, there are mandatory days in which availability is required. If you are not able to meet the availability requirements your application may be rejected. These availability dates are listed at the bottom of the job posting.
Casa Larga Vineyards grows 10 varieties of wine grapes on 36 acres and has produced and marketed fine wines since 1978. We host over 30,000 guests annually at our beautiful vineyards, Bella Vista events center, and Wine Shop in Fairport, NY. (www.CasaLarga.com)
We are seeking an energetic outgoing person to join our Offsite Tasting team. He/she will deliver to our guest a memorably positive experience, which will generate excellent wine sales, return visits and repeat purchases, superior reviews/ratings, and recommendations to others.
He/she will:
Effectively represents Casa Larga Vineyards at any offsite venues mainly in the greater Rochester area but occasionally elsewhere in upstate NY
Conduct tastings at wholesale locations including restaurants and liquor stores
Promote and sell Casa Larga wines
Operate a cash box as well as a credit card swipe via a cell phone
Encourages customers to visit the Casa Larga winery for tours/tastings
Accurately accounts for sales, tasting bottles, and wine inventory
Foster teamwork and add to the morale of his/her workmates
Be comfortable receiving guidance from his/her supervisor on areas of personal improvement
Provide thoughtful feedback to his/her supervisor on opportunities for improvement
This is a part-time/seasonal position, with the opportunity to grow into full-time. Starting wages: $11.10/hour
Job requirements include:
Minimum one year's experience serving the public in the hospitality or wine industry.
Willingness to travel to and from events in company vehicle or on rare occasions, a personal vehicle, as well as occasional overnight stays.
Have an active and clean driver's license
Able to multitask and function at fast pace with good humor.
Detail-oriented, thorough, reliable, courteous.
A clear and sensitive communicator, with the motivation and sensitivity to help others
Able to work on his/her feet for most of an 8-hour work day
Able to lift and carry cases of wine weighing up to 45 lbs.
Availability Requirements:
Be able to work at least 2 Saturdays a month
Casa Larga has 2 offsite locations in which occur every Saturday
Rochester Public Market- Saturdays from 8:00-3:00pm
Windmill Farm & Craft Market- Penn Yan- From 8:00-4:00pm
Be available for occasional evening events (availability beyond 5pm)
Be available to work 20 hours a week
Events in which availability is mandatory
June 1st & 2nd- Fairport Canal Days, Fairport, NY
June 7th, 8th, 9th- Great NYS Food and Wine Festival, Clayton, NY
July 13th & 14th- Finger Lakes Wine Festival, Watkins Glen, NY
August 3rd & 4th- Americas Grape Country Festival, Dunkirk, NY
For the festivals in Clayton, Watkins Glen & Dunkirk overnight stays may be required. Lodging and meal reimbursement are given to any staff members who are required to stay overnight.
Job Type: Part-time
Salary: $11.10 /hour
To express interest in this position, email offsites@casalarga.com
Assistant Vineyard Manager
Join the Casa Larga Vineyards team and be a part of growing and maintaining 40 acres of vineyards in Fairport, New York. We are a family owned and operated company since 1974. We focus on producing the highest possible quality wine grapes and a positive, enriching, productive, and healthy work environment.
The Assistant Vineyard Manager reports directly to the vineyard manager and assists in coordinating all farming activities for the vineyard. These duties generally involve a broad range of vineyard work including but not limited to pruning, weed control, disease and pest control including related chemical applications, cultivation, canopy management and harvest. This person will also manage and assist in vineyard development activities such as land preparation, trellis maintenance, planting, and equipment selection. The Assistant Vineyard Manager must at times provide close supervision of field crews, assuring proper procedures and quality of work. In addition, the candidate may also be to assist in winery activities including fruit processing, bottling, cleaning, fermentation monitoring, and other aspects of wine production.
Specific Duties:
• Safe operation of tractors, tractor implements, and other farm tools and equipment.
• Assists in the maintenance of tractor and tool condition and the monitoring of lubrication, fuels, oils and fluids of these tools.
• Directs a workforce consisting of part time workers, interns, third party contractors and work crews.
• Understands and complies with all safety protocol and PPE requirements.
• Monitors crops for insect & disease pressure; assists in the planning and implementation of fungicide and pesticide programs; keeps accurate records of pesticide & chemical usage and inventories.
• Maintains accurate, timely records of daily events, including equipment and work schedules
• Reviews and approves timecard data on a daily basis to ensure accuracy in payroll as it relates to the vineyard
• Requisitioning, operating and maintaining all tools, equipment and vehicles
• Assists in the implementation of employee safety training programs
• Addresses communications, performance, and employee relations issues that occur with the vineyard workforce.
• Takes on special projects as assigned by their supervisor.
• May be asked to help with other maintenance items inside the winery.
• Other duties as assigned.
Background/Experience/Skills Required:
A minimum of two years of direct farm experience in vineyard and/or other fruit crops. Strong communication skills are essential, including the ability to speak and write clearly. This position necessitates excellent planning and organizational skills as well as the desire to be team oriented. Also required are excellent people and leadership skills and the ability to build positive, constructive relationships at all levels of the company. Position requires solid computer proficiency and ability to work with company software and programs such as Microsoft Office and Excel.
Degree in Viticulture or related field is preferred but not required.
Pesticide applicator license is preferred but not required.
Physical Demands and Work Environment:
Must be able to lift and/or move up to 50 pounds and occasionally lift and or move up to 50 pounds. Must be able to operate farm implements, large machinery, and vehicles on flat land and on hillsides. Employee is exposed to wet and or humid conditions, moving mechanical parts, fumes or airborne particles. The employee will be exposed to seasonal weather conditions (summer heat, cold weather, rain).
This job description is not limited to the duties described and may be subject to change as needed.
To express interest, please contact Matt Cassavaugh at mcassavaugh@casalarga.com.