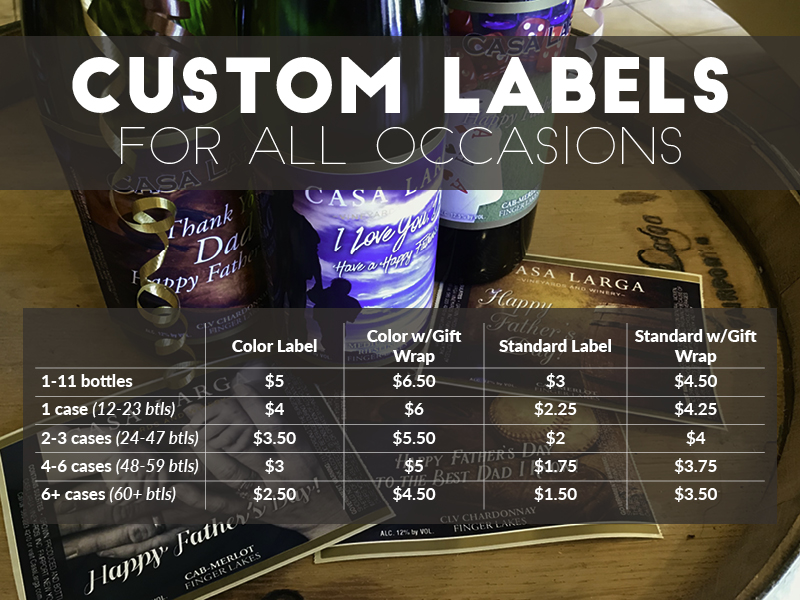 NOTE: Please call or visit the wine shop to place your custom label order. We are currently working on fixing a glitch on our website. We apologize for the inconvenience. Thank you!
To place your custom label order:
Custom Labels can be shipped (shipping charges apply), delivered ($10 fee), or picked up.
Complete the form at the bottom of this page for each custom label bottle. Please note, you will need a separate form for each different custom label that you choose. If you are getting multiple bottles with the same label, please note the bottle count on the form below.
Once your form has been completed, it will be sent to the graphic designer.
If you have any questions regarding labels or the ordering processing, please call the Wine Shop at (585) 223-4210 x 2
All orders take 3-5 business days before they can be picked up or shipped out. If you need your order in less than 3-5 business days, please call the wine shop at 585.223.4210 x 2 to place your order.
For pick-up orders, please indicate the date you'd like to pick up the order in the order notes.
Adding a custom label to a gift set or basket is an easy way to personalize a gift for any occasion! Check out our selection and see all we have to offer.
Suggestions for Your Label:
Custom Label Request Form
Please use the following form to request a custom label. If you are choosing multiple bottles with different label, you will need to submit a form for each different label.
This form is to request and submit information for your custom label only. Once submitted, it will not automatically take you to the payment page. You can pay for your label by calling Casa Larga at (585) 223-4210 x 2.
When using the online system, you will need to add the wines you purchased your label on and the label itself separately into your cart, and then follow the checkout process. You can choose pickup, delivery or shipping to receive your order.