Due to recent UPS changes due to the ongoing COVD-19 pandemic any packages shipped to a business that is closed will be returned to us immediately and the sender will be responsible for return costs. If you would prefer, you can choose to have your package sent to a UPS access point to be picked up at your convenience or ship directly to your home address. If you have any questions regarding these changes please email cameele@casalarga.com or call (585) 223-4210.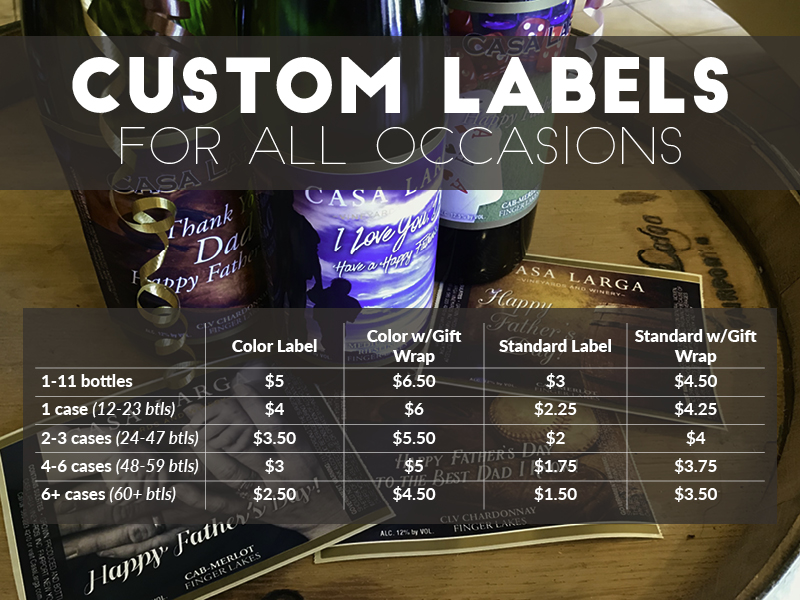 To place your custom label order:
Shipping your wine with custom labels? Place your wine order online and add the number of labels to your cart as well. Checkout and note your order number.
Complete the form at the bottom of this page for each custom label bottle.
Call the wine shop at 585.223.4210 ext. 2 OR send your order information and phone number to Mallory at labels@casalarga.com.
For large quantities, please call Cathy at 585.223.4210 x 121 for pricing.
All orders take 3-5 business days before they can be picked up or shipped out. If you need your order in less than 3-5 business days, please call the wine shop at 585.223.4210 x 2 to place your order.
For pick-up orders, please indicate the date you'd like to pick up the order in the order notes.
Adding a custom label to a gift set or basket is an easy way to personalize a gift for any occasion! Check out our selection and see all we have to offer.
Suggestions for Your Label:
Custom Label Request Form
For multiple bottles, please complete the form for each of the bottles you'd like.
Note: Completing this form does NOT confirm your order. You must complete your purchase online or call the winery to confirm the placement of your order.