Sunday, August 18, 2019
An Italian Celebration!
2:00 - 5:00 pm
Rain or Shine at Casa Larga Vineyards
2287 Turk Hill Road, Fairport, NY
Tickets now on sale:

$10 per person
10 tickets for $80 with code ITALIANCEL at checkout
Tickets include your first beverage

Under 21: Free!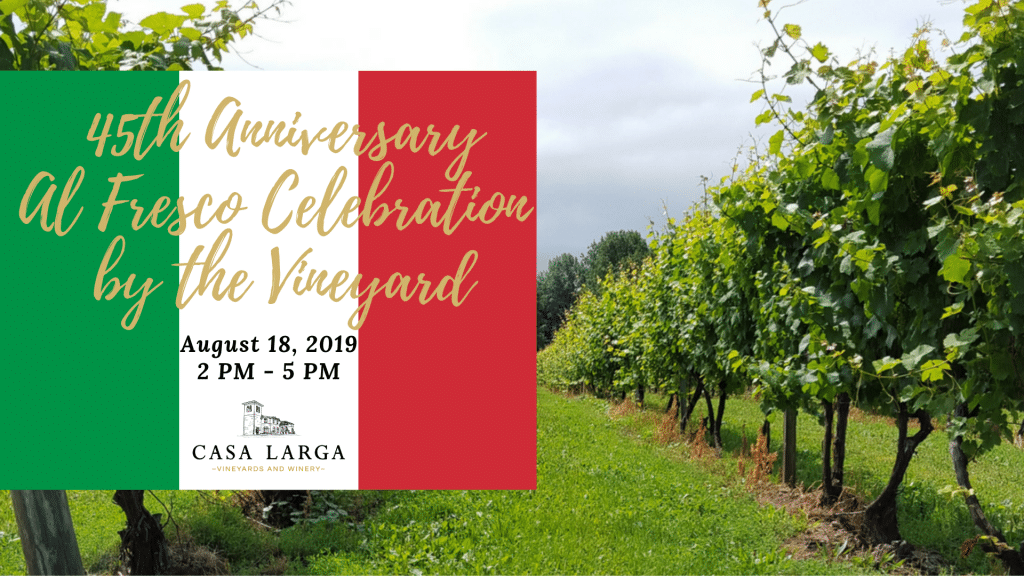 A piece of Italy in the heart of Monroe County, Casa Larga embodied Mr. C's dream – serving as a symbol of his dedication to the preservation of his Italian heritage. Passion, patience and tenderness were his gifts to the vines and the wines they produced. Mr. C's hobby matured into a larger business, and Casa Larga became the 21st licensed winery in New York State. Casa Larga has now entered the golden era of New York State winemaking, becoming an icon, as well as a sparkling jewel of the Finger Lakes and Rochester regions.
Come celebrate 45 years with us on Sunday August 18, with live music by Marco Amadio and classic Italian plates created by Tony Simone which will be available for purchase. The event run from 2:00-5:00pm and is $10 per person which includes your first glass of wine, beer or wine slushy.
Food for Purchase:
Wood-fired, herb and spice infused porchetta (pork roast) w/ garlic aioli served on fresh Italian bread
Savory and garlicky greens and beans made with creamy cannellini beans, fresh escarole, parmesan cheese and garlic.
Variety of authentic Italian wood fired pizzas
Variety of Italy's favorite dessert (dolce) Cannoli!
Wine Lovers Club Members: Call Cathy Fabretti at (585) 223-4210 x 121 to receive your club discount (tickets for $8pp)