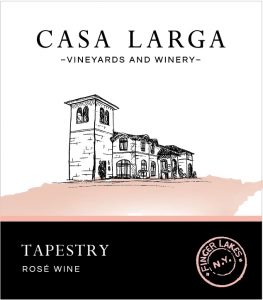 Recent Awards:
Gold – 2011 New York Wine & Food Classic

Silver- 2011 Golden Nose

Silver – 2004 Taster's Guild International
Tasting Notes: Unoaked.  A light-bodied and fruity, rosé-style wine.
Grape Composition: A proprietary blend that may include Cabernet Sauvignon, Vidal Blanc and a Rosé of DeChaunac
Type: Blush
Residual Sugar:  1.7%
Alcohol Content:  11.5%
Bottle Size(s):  750mL, 1.5L
Food Pairings:  White meats, Cobb salad and ham.
Viticulture:  The grapes used in the production of this wine are highly cold-tolerant, making them ideal for New York and the northern Finger Lakes region.
Winemaking:  Cold fermentation is used for this wine.  Tapestry is fermented in stainless steel, bringing out the fruit flavor and aromas in the wine.