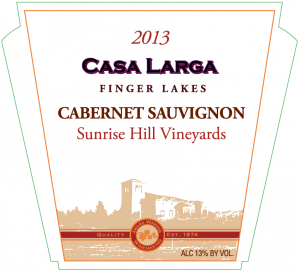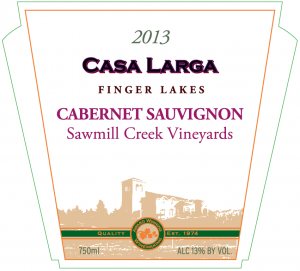 2013 Cabernet Sauvignon Reserves
Sawmill Creek Vineyards
Sunrise Hill Vineyards
Finger Lakes

Our limited-production single-vineyard Cabernet Sauvignon reserves are delicious examples of our ability, developed over the past 20 years, to produce red wines with not only a classic tannic structure but also the Finger Lakes region's signature berry notes and clean finish.  Tasted together, these two wines display the subtle differences between grapes of the same vintage produced by two premier growers.   
Viticulture
Grapes: Cabernet Sauvignon
Appellation: Finger Lakes
Harvest dates: Oct. 23, 2013 (Sawmill Creek); Oct. 29, 2013 (Sunrise Hill)
Viticulture Notes: Grapes wines were grown by our friends at Sawmill Creek Vineyards, Hector, NY and Sunrise Hill Vineyard, Interlaken, NY.     
Winemaking
Winemaker.  Matt Cassavaugh
Primary fermentation. In open containers. 
Malolactic fermentation.  Sequential.
Alcohol by volume. 13% (both wines)
Residual sugar. 0.1% (both wines)
IRF scale.  Dry
Aging. In oak barrels
pH.  3.5 (both wines)
TA.  5.8 g/L (Sawmill Creek); 5.9 g/L (Sunrise Hill)
Bottling dates.  December 4, 2015
Production. 70 cases (Sawmill), 75 cases (Sunrise)
Size.  750mL
Vegan.  Yes.
Wine series.  Winemaker 
UPCs.  0-89815-01762-5 (Sawmill Creek), 0-89800-00293-3 (Sunrise Hill)
Year first produced:  2016
Winemaking notes. Grapes from Sawmill Creek and Sunrise Hill were fermented separately in bins with twice or three times daily punch-downs to ensure proper tannin, color and flavor extraction.  The resulting wines then underwent malolactic fermentation to round out the mouth-feel.    
Enjoying our Cabernet Sauvignon reserve wines. 
At our winery in Fairport

At

CasaLarga.com

for direct shipment to residences and workplaces in 37 states.
Aging: Store at 55º-60ºF and out of direct sunlight. 
Ideal serving temperature:  60º 
Tasting notes (Sawmill Creek):  Fresh ground pepper, lavender and plums leap to the senses, and a strong tannic structure.
Tasting notes (Sunrise Hill):  This complex, well-structured wine exhibits a beautiful cherry nose, lively berry flavors, and a pleasant, toasty oak finish. 
Pairing suggestions.  Hearty beef dishes, aged bleu cheeses, fire-roasted vegetables, grilled chops, and dark chocolates.